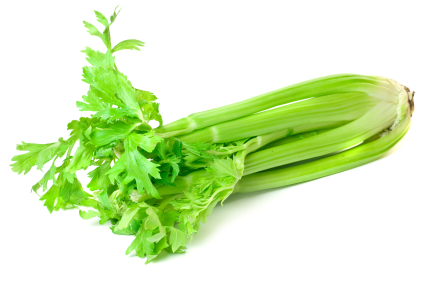 "A person could starve to death eating celery." This is something my mother told me years ago. A person remembers a statement like that!
Apparently, she had read somewhere that it takes more calories to digest celery than celery actually contains. So, doing the math… more out than in… you get the picture.  I don't know if it is true  or not but celery is an awesome veggie that is tasty and loaded with fiber.  According to Experience Life Magazine's recent article  research has been shown that celery can "prevent memory loss, lower blood pressure and even inhibit cancer".
My biggest objection of celery are the strings.  However, blend it up into a smoothie and, voila, problem solved.  Here's another a great tip, don't discard the leafy tops!  Put the whole stalk in the blender for all the leafy goodness and celery benefits.
Apple Raspberry Celery Smoothie Recipe

2 Big Handfuls Spinach (about 2 cups)
1 Honeycrisp Apple (or other sweet apple)
2 Stalks Celery, organic (remember to use the leafy tops!)
1/2 Cucumber, washed with skin on if organic, if not organic peel it
1/2 c Water
3/4 c Frozen Raspberries, unsweetened, organic

Blend all together and enjoy.


Nutritional Information (based on my FitDay food log program):
Calories 246, Fat 2g, Carbs 58g, Protein 6g
Yum Rating 4
The apple and raspberries really taste through this smoothie. The raspberry gives the sweetness from the apple a slight tartness.  Also, you are getting some great nutrients from the celery. Spinach as always is a mild taste winner.